2000 year old riddle the SATOR/ROTAS Knights Templar Magic SQUARE solved
03-11-2010, 01:54 PM
(This post was last modified: 03-11-2010 02:01 PM by Raphael.)
Raphael
Banned

Posts: 1,032
Joined: Jul 2009
2000 year old riddle the SATOR/ROTAS Knights Templar Magic SQUARE solved
What this fella has been able to do is show how the

Sator Square is a mnemonic for an Ancient Vortex Theory

.
This was confirmed by the fact modern VBM (Vortex Based Math) is an exact fit.
The LETTERs correspond to the NUMBERS that VBM produces.
You will need to read this for more detail.
It is not difficult to follow along.
http://breakfornews.com/forum/viewtopic....highlight=
And the fella also claims he can easily show how it also meshes with Roger Penrose/Ed Witten's Twistor String Theory.
So HOW can that be?
How can a 2000 year old magic square of Mars, source unknown, be a PREDICTOR of what was already written to be discovered by Marko Rodin and co.?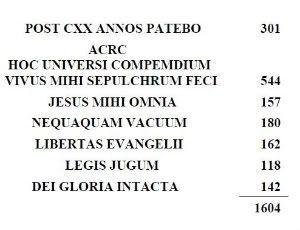 Why does JeSuS =

157
?
What does BACH have to do with anything?
http://www.abovetopsecret.com/forum/thre...pid8273351
Take a look at the inner 3x3 grid within the 5x5 SATOR Square and this grid of negative numbers...
http://i98.photobucket.com/albums/l280/k...-on-py.png
namaste
---
NATURE cannot be HIDDEN only VEILeD with NARRATIVES that defy NATURE

CodeX4 and the Reconciliation of Science and Religion
http://kachina2012.wordpress.com/about/

User(s) browsing this thread: 1 Guest(s)